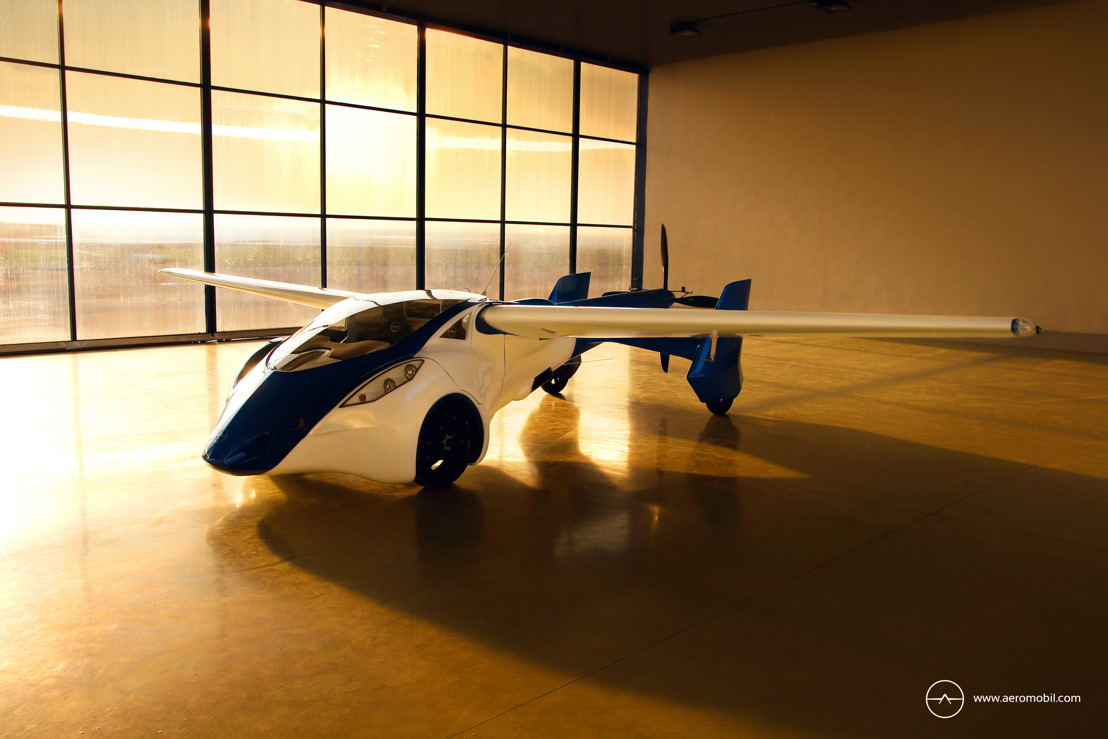 AeroMobil 3.0 prototype will be on show at Top Marques Monaco
Flying roadster lands a spot at the world´s most exclusive supercar show
Monday, January 19, 2015 — You've seen a convertible, now check out the latest real life transformer: the AeroMobil, a stunning prototype of a flying roadster which metamorphoses into a two-seater light sport plane.
From April 16 to 19th 2015 the AeroMobil will be on show at Top Marques Monaco, the world's most exclusive supercar show held in the capital of innovation and luxury. The Slovak team behind the paramount integrated vehicle, launched last October at Vienna's Pioneers Festival, have chosen Top Marques as the venue to reveal the latest chapter in its ground-breaking story.
Manoj Bairstow, managing director of Top Marques, said: "I'm absolutely delighted that AeroMobil is coming to Top Marques 2015. We are certain it will prove to be extremely popular with our visitors in the Grimaldi Forum who will be able to see the vehicle as it miraculously transforms from a supercar into a plane."
He added: "It is testament to the importance of Top Marques as a supporter of new transportation technologies that such a game-changing vehicle has decided to exhibit with us here in Monaco."
The flying car prototype AeroMobil 3.0, which is expected to be issued with its full airworthiness licence within weeks, can with the current engine configuration reach speeds of up to 160 km/h on the road and once sky-bound, accelerates to 200 km/h.
This ultimate two-seater prototype is an exquisite feat of design and engineering which runs on regular fuel and has a range of 800km. It can take off from speeds of about 100 km/h, meaning that owners can use any legal leveled grass surface to get their luxury transport airborne.
The first model of AeroMobil will be a high-end luxury product combining a high performance car and a full-fledged small aircraft, produced in a limited edition and the price will reflect this.
AeroMobil 3.0 prototype has been designed and manufactured by engineers led by chief designer and CTO Stefan Klein and CEO Juraj Vaculik, co-founders of the company AeroMobil.
Juraj Vaculik said: "I'm very excited by the opportunity to be a part of the Top Marques Monaco 2015 where we will introduce the prototype of AeroMobil 3.0 to supercar buyers. I strongly believe that AeroMobil will inspire new ways of thinking about personal travel. Our company is set to reinvent the flying car without constraints and deliver excitement through unique technical solution and design."
Tickets for Top Marques Monaco, a four day luxury exhibition the principal partner of which is the private bank Edmond de Rothschild, are on sale now at the venue's website www.grimaldiforum.com or www.topmarquesmonaco.com
For more information on this release or about the live supercar show, where visitors are able to test drive vehicles on Monaco's Formula 1 Grand Prix circuit, please contact press@topmarquesmonaco.com
For additional information and images on the AeroMobil go to the AeroMobil media web site http://press.aeromobil.com or discover their page on the Top Marques Monaco website here