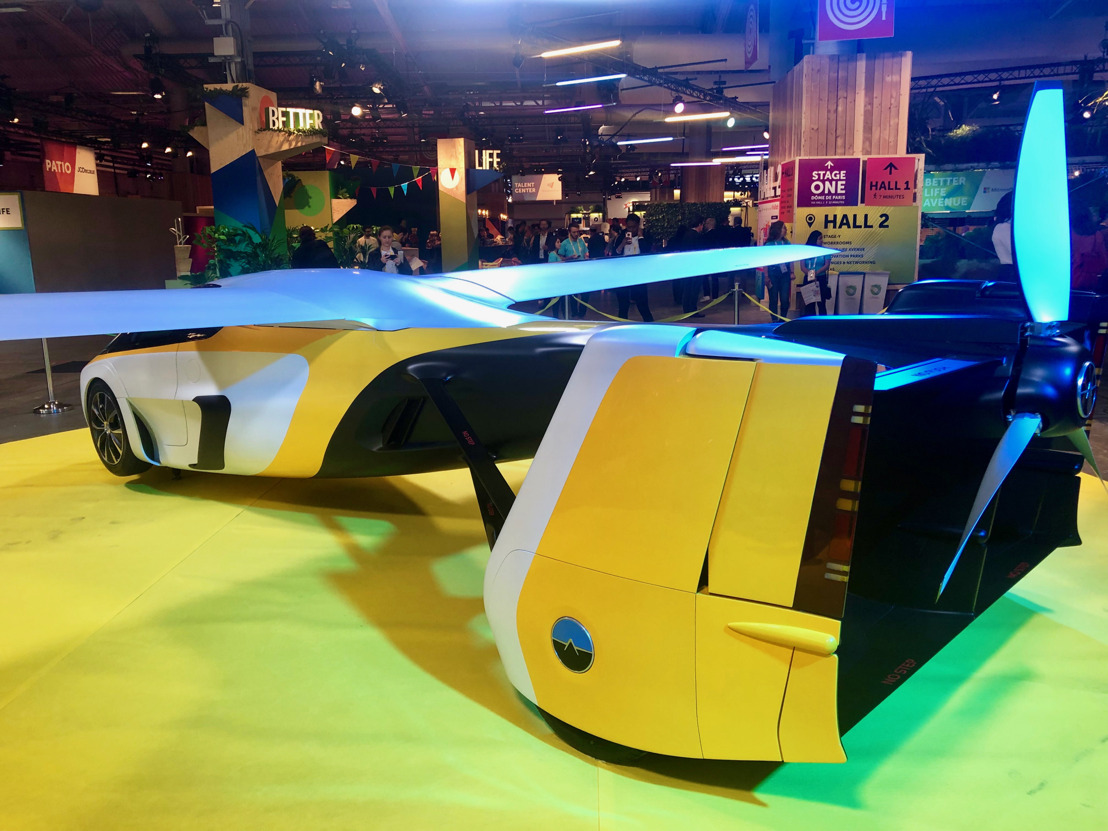 AeroMobil attended Viva Technology 2019 the world's rendezvous for startups and leaders in Paris
Monday, May 20, 2019 — AeroMobil, one of the leading start-ups in flying cars and personal aerial transportation exhibited its AeroMobil 4.0 vehicle at the Viva Technology event in Parisfrom 16-18.5.2019 in PARIS EXPO Porte de Versailles. For the AeroMobil team, it was another significant opportunity to meet investors in mobility and potential future customers.
Viva Technology is a prominent European event with an emphasis on Tech Trends, Startups and networking. Organisers - Publicis Groupe and Groupe Les Echos – invited AeroMobil to showcase AeroMobil 4.0 to more than 100,000 attendees, 1,900 investors and 1,000 journalists. The event counts as one of the biggest startup festivals in the world and is endorsed by President of France Emmanuel Macron. Viva Technology is sponsored by LVMH and Orange among others.
"We think this is an excellent opportunity to meet with interested investors and technology partners who want to experience the vehicle and hear about our approach to develop it as a platform for future mobility with a range of technologies for personal aerial vehicles including VTOL models." – says Juraj Vaculik, Co-founder and CEO, AeroMobil
Earlier this year AeroMobil started to work exclusively with the automotive advisory practice of Rothschild & Co and its global network of advisors to close its newest funding round.In recent months AeroMobil has already held discussions with a number of leading automotive and aerospace strategic investors, as well as a number of family offices and venture capital funds. To date, AeroMobil has showcased short takeoff and landing (STOL) and electric vertical takeoff and landing (eVTOL) vehicles, both with unique FlyDrive capabilities. It is also one of the first flying car company to submit an application to European Union Aviation Safety Agency (EASA) for a Type Certificate for its upcoming AeroMobil 4.0 STOL flying vehicle.
AeroMobil has raised over €22 million from range of investors:
Patrick Hessel, Chairman of AeroMobil and founder and CEO of C2i, a leading producer ofcarbon-fibre components for automotive, aerospace and motorsport industries
IPM Group, asset manager and multi-family office investing in disruptive technologies in the sectors of energy, mobility and artificial intelligence
Focus Capital Group based in Israel
Initial seed capital was provided by serial entrepreneur and start-up investor, Juraj Vaculik, Co-founder and CEO of AeroMobil
AeroMobil has also been actively supported by the Slovak government and its development and growth agencies.
AeroMobil has a clear vision to become a leading global player in the development and deployment of personal aerial vehicles for inter-city and intra-urban air mobility. This is what it calls 3D Mobility envisaging a world where travellers have a seamless, transition from road to air travel allowing them to travel in comfort, while dramatically reducing journey times and greatly reducing the impact on the environment. AeroMobil is developing a unique suite of proprietary eVTOL capabilities, technologies and vehicles to take advantage of the growth in personal air mobility. Given its extensive experience to date, AeroMobil is strongly positioned to create a leading technology platform for urban air mobility identifying new opportunities across the value chain, which will enable it to fulfil its ambition to become the first certified commercially available flying car in history.
Since it first began work on its prototype in 2013 AeroMobil has adopted an iterative approach to the introduction of flying car technologies for urban air mobility. The strategic focus is to build a sustainable business that capitalises on the market opportunity for flying cars while respecting technology readiness, the regulatory environment, current infrastructure and the commercial landscape. AeroMobil continues to develop its eVTOL technology and concepts in parallel with the successful development and commercial delivery of the AeroMobil 4.0 which will help to establish an early foothold in the market for flying cars.
AeroMobil will follow a similar strategy to leading electric car brands, who kick-started the early electric vehicle (EV) market through the launch of high-end sports cars to demonstrate the potential and opportunity for EVs. Similarly, the first vehicle from AeroMobil, the 4.0 STOL, will provide the business with a strong first mover advantage. The AeroMobil 4.0, a super-car with super-powers, will enable the business to gather invaluable data to improve our learning about the vehicle and its operation while addressing an existing market for super-cars and light aircraft. AeroMobil believes this is a necessary interim step to support the introduction of flying cars as eVTOL still requires a significant step-change and development in technology, infrastructure and regulatory environments to be commercially viable and successful.