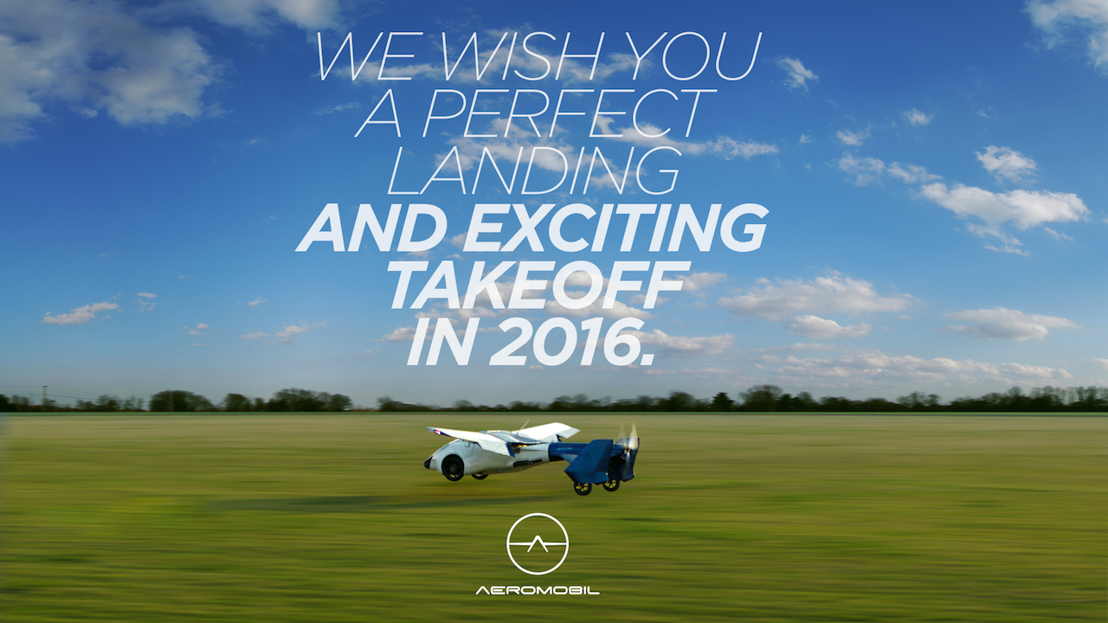 AeroMobil leaves behind a successful year
Wednesday, December 30, 2015 — Since the introduction of the prototype 3.0 at the prestigious international forums and the successful entry of its first external investor and expansion of the team, AeroMobil readily steps into the next phase of its development. In 2016, Slovakia's flying car awaits several significant moments, which will define the essential industrialization of the project.​
At the beginning of 2015, AeroMobil successfully attracted the attention of visitors and potential customers at the most prestigious supercars show, Top Marques Monaco alongside the prestigious sports vehicles from around the world. Later in June, AeroMobil was presented at the Founders Forum event in the UK, where they caught the attention of many visitors and the Financial Times. In October, the public experienced the prototype at the EXPO in Milan, where it was part of the Slovak exposition.​
Visitors to these presentations, as well as many other events AeroMobil has put on, have concluded that this innovative vehicle has global potential and provides a positive impulse to the slightly conservative automotive and aerospace industry. Renowned magazine, Popular Science, presented AeroMobil with Invention of the Year 2015 award and UK edition od Wired magazine ranked the project among the top 10 rule breakers last year.​
The company also managed in 2015 to increase financial resources by 8,5 million EUR from private and public sources and plans next investment round in 2016.​
AeroMobil's expanded team is now improving the design and working on a new prototype, which will be subjected to a prescribed test. The smooth running of these processes, the ensured high degree of innovation, and newly recruited experts from the automotive and aerospace industry, will ensure that the next stage of the project moves to a higher level.​
The team this year rose to 30 people, seeing specific strengthening in the technical department. The newly appointed Chief Technical Officer (CTO) is Douglas MacAndrew, who has more than twenty years of rich experience in the automotive industry. His career has developed with companies such as BMW, Land Rover, Jaguar, McLaren and Smith Technologies.​
Additional experts have joined the team to reinforce the department of computational analysis and aircraft structures. Their experience includes, for example, work with bionic structures and additive technology for Airbus. In the field of automotive engineering, AeroMobil's extended team members have worked on innovative technologies for Formula 1, World Rally Championship and Le Mans.​​